Measurement Aperture Mask, 25mm Square
---
---
Measurement aperture masks for patterned ITO substrates.
Precise illumination for accurate reporting.
---
The S2006 aperture mask is part of Ossila's award winning prototyping platform for photovoltaic devices.
Electrochemically-etched holes provide accurate area definition for solar cell illimunation or OLED luminance measurements, preventing over or under-estimation of device performance.
For use with our 25mm square ITO substrates (S2006C1).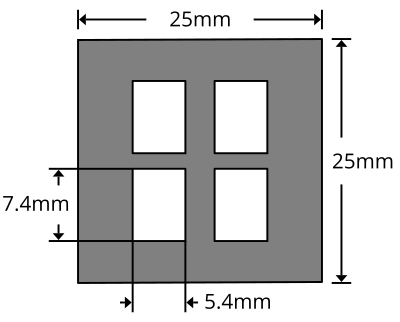 General Specifications
| | |
| --- | --- |
| Material | Stainless steel |
| Outer Dimensions | 25mm x 25mm x 0.2mm |
| Aperture Dimensions | 7.4mm x 5.4mm (39.96mm2) |
Four Pixel Aperture Mask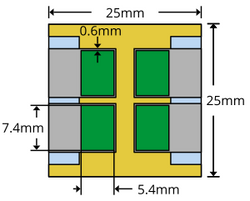 The holes in the aperture mask align with the centre of the device pixels, creating four illumination areas of 39.96mm2. There is a border of 0.6mm between the edge of the aperture and the edge of the pixel. This helps to reduce edge effects during device characterisation.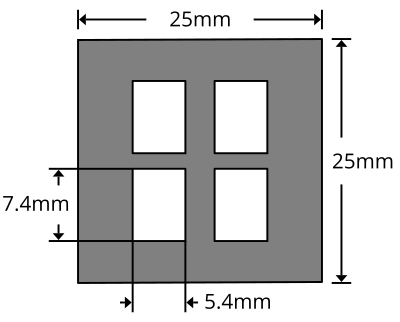 ---
To the best of our knowledge the information provided here is accurate. The values provided are typical at the time of manufacture and may vary over time and from batch to batch. Products may have minor cosmetic differences (e.g. to the branding) compared to the photos on our website. All products are for laboratory and research and development use only.