---
---
We stock a range of milled polypropylene (solvent safe) chucks compatible with the Ossila Spin Coater. The interchangeable chucks have a push-fit base that fits firmly and securely onto the spin coater coupling.
For customers wanting to use their own substrate system, we can produce custom chucks to fit your substrates. Simply contact us with your requirements (specifying the length, width, and depth of your substrate) and we can determine the right chuck for you.
Specify three dimensions (length, width, and depth) when ordering a custom chuck
Alternatively you can download the '.stl' file for free to manufacture your own chuck (see below).
Further information
The spin coating chuck has a recess designed to hold the substrate securely in place by friction and centrifugal force, while allowing excess solution to escape.

This eliminates the need for a vacuum and significantly reduces substrate warpage for better film quality as shown in the figure below.
Changing Chucks
The Ossila spin coater has been designed to make it quick and easy to change chucks so that many different substrate sizes can be accommodated.
This video shows how easy it is to remove the spin coater substrate chucks, which have a push-fit connection to the motor coupling in the spin coater, for cleaning or interchanging with other spin coater chucks.
The custom milled polypropylene chucks allow for mounting substrates of a range of varying shapes and sizes.
The recessed design holds the substrate securely in place without a vacuum, reducing substrate warpage for better film quality.
Further information
For more details contact us to discuss your specific requirements.
E461 chuck for 20 x 15 x 1 mm substrates and 50 x 50 x 1 mm substrates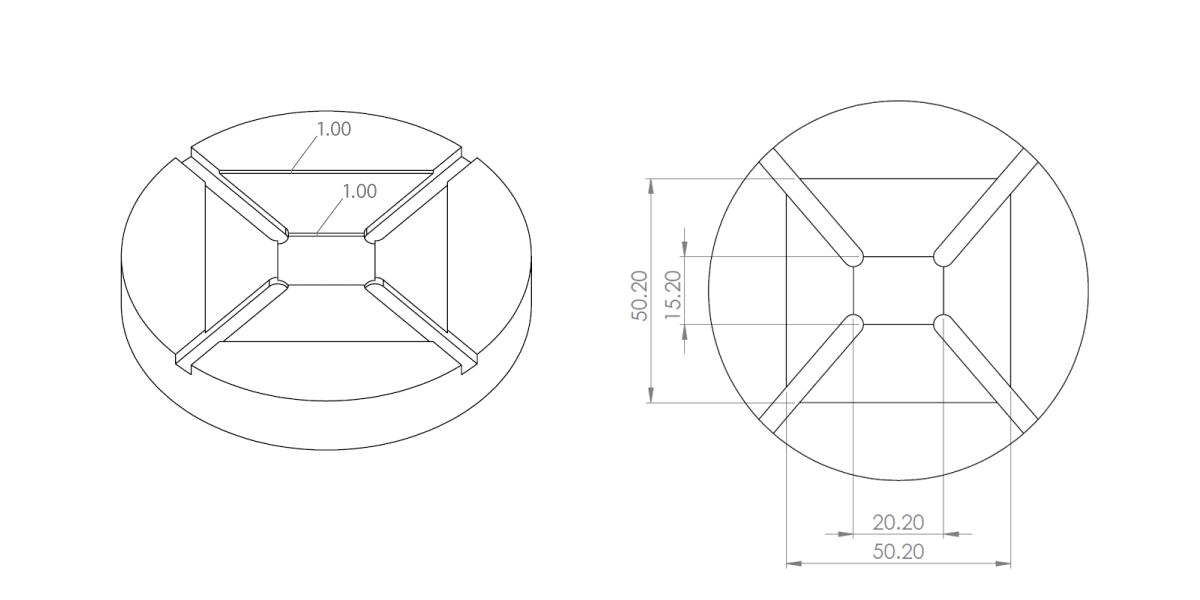 This two-level chuck offers full flexibility across our substrate ranges. The additional corner recesses on both levels also ensure excess solution can still escape. Further more it is ideal for use with our carrier plates allowing you to adapt the chuck to work with custom or alternative substrate sizes.
E463 chuck for 76 x 26 x 1 mm microscope slides and 20 x 15 x 1 mm substrates
E462 chuck for 1 x 1 inch  and 2 x 2 inch square substrates (25.4 x 25.4 x 1 mm, 50.8 x 50.8 x 1 mm)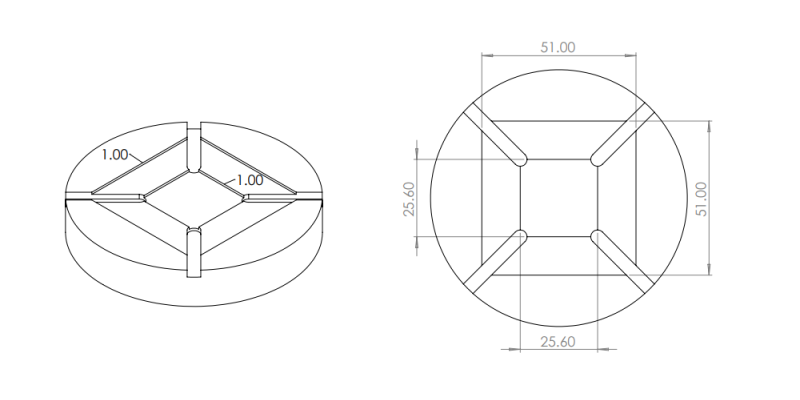 Custom Chucks
If you would like to manufacture your own spin coating chuck by 3D printing or other means, you can download the appropriate files below. If you've any questions just get in touch with the Ossila office.
Requirements:
Maximum diameter of chuck: 85 mm
Maximum depth of substrate: 2.5 mm
Maximum width of substrate: 55 mm
For more on the Ossila Spin Coater visit the Spin Coater Prices and Specification page or contact us to discuss your specific requirements.
---
To the best of our knowledge the information provided here is accurate. However, Ossila assume no liability for the accuracy of this page. The values provided are typical at the time of manufacture and may vary over time and from batch to batch. Products may have minor cosmetic differences (e.g. to the branding) compared to the photos on our website. All products are for laboratory and research and development use only, and may not be used for any other purpose including health care, military, pharmaceuticals, cosmetics, food, or commercial applications.