In The Spotlight: Personal Spin Coater
---
Posted on Fri, Aug 15, 2014 by Jack Stephenson
The article is about the original Ossila Spin Coater, which has now been superseded by our 
new and improved model
. The information on this page may therefore be out-of-date.
Compact, versatile, vacuum-free and low maintenance; these are the reasons why our spin coater has become one of our bestselling pieces of equipment since its launch last year.
We originally designed the spin coater to solve problems that we came across in our own lab. We were frustrated with vacuum warpage which can affect film uniformity and reduce the quality of the substrate. Depending on the size and thickness of the substrate, the size of the vacuum aperture and the speed spin the extent of spin coating vacuum warpage can vary, for example for substrates of less than 1mm in thickness the effects are most severe. However, any degree of warpage will have an effect on film uniformity, which in turn can reduce the quality of the devices on the test chip and be detrimental to your research.
To overcome this common problem we designed specialist spin coating chucks to place on top of our vacuum spin coater in order to eliminate the vacuum. These chucks are milled with a recess to mechanically hold the substrates in place whilst allowing excess ink to flow off during spinning in order to reduce warping and improve film quality. Our standard design is a two level chuck which is compatible with our standard 20 mm x 15 mm substrates and 50 mm substrates in order to provide full flexibility for our customers who use our standard PV and LED substrate systems and FET fabrication systems. We have also designed chucks suitable for microscope slides (75mm x 25mm) and square coverslips (25 mm x 25 mm), and can manufacture completely custom chucks for customers who use alternative substrate systems.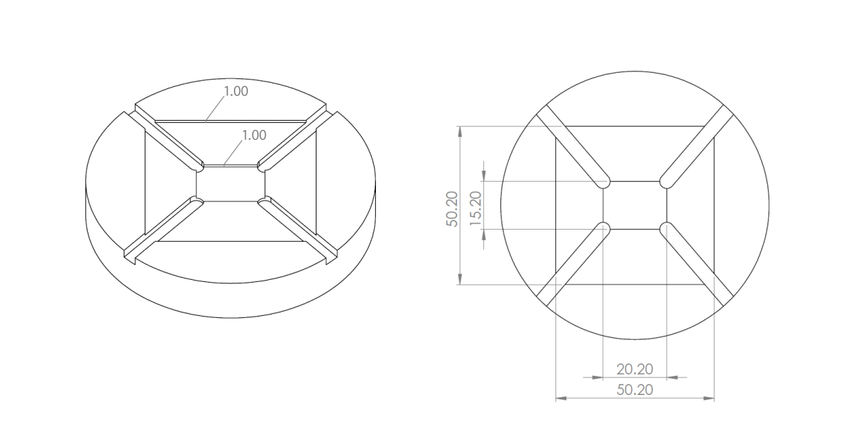 In our lab the specialist chucks were a brilliant solution to the substrate warpage problem, but meant that we were paying for regular, expensive and unnecessary servicing of the spin coater vacuum. This encouraged us to design our own alternative; a completely vacuum free spin coater that is powerful, versatile, and affordable for any and every lab to buy and maintain.
Key features:
Easy to install - Simply plug the spin coater into the mains supply and start spinning. This is particularly useful in glove-boxes and fume hoods, and makes it easy to move the spin coater from lab to lab should you need to.
Fully programmable - The simple keypad and clear digital display make it incredibly easy to programme the spin coater. Spin speeds range from 120 rpm to 6000 rpm in order to cover spin coating very thin films to slow dry crystallisation conditions and everything in between. This makes the spin coater suitable for a wide range of ink viscosities and solution blends; see our spin coating guide for more information on spin coating techniques.
Low cost, low maintenance - As mentioned above there is no need for costly servicing plans with the Personal Spin Coater, and no need to buy and replace vacuum pumps and nitrogen. Plus, there is less to go wrong with just two moving parts - the motor and the lid - which reduces the risk of expensive repairs.
Incredibly safe - The spin coater bowl and surround are made from polypropylene whilst the keypad and display are coated with an FEP film in order to protect the motor shaft and electronics from solvent damage. Spinning is prevented when the lid is open as a result of a hard-wired interlock and the spin coater's programmed software. Finally, the spin coater is powered via a 24 V mains adapter in order to avoid a high voltage near safety cabinets.
Compact yet robust - Space in cleanrooms and gloveboxes is always at a premium, so we made sure the spin coater is as small as it possibly could be; it measures just 267 mm x 230 mm x 141 mm. Despite its size, it is incredibly robust with an aluminium structure, ABS panels and a glass lid.
It is these features which have made the Ossila Spin Coater an essential in our lab and an incredibly popular product with our customers. It has been used in a number of key studies including the breakthrough paper published in Nature Scientific Reports in June this year. Molecular weight dependent vertical composition profiles of PCDTBT: PC71BM blends for organic photovoltaics explored the use of neutron scattering to show that high molecular weight can create interface enrichment layers to benefit device performance. The Spin Coater was used to deposit the PCDTBT solutions during the preparation of OPV devices throughout the study. The paper consequently reported the highest efficiency yet for PCDTBT [1].
For more information visit the spin coater product page, or for more advice on vacuum warpage and other spin coating problems and solutions read our in-depth spin coating guide, which features a number of demonstrative videos. If you have any further questions about our spin coater or about device fabrication, please do not hesitate to get in touch and we'll be happy to help.
References
[1] Molecular weight dependent vertical composition profiles of PCDTBT: PC71BM blends for organic photovoltaics. A. Parnell et al., Nature Scientific Reports, 4: 5286 (2014)